In the wake of the recent atmospheric river that flooded parts of Auckland, one suburb hit by significant rainfall remained relatively unscathed. Hobsonville Point is built on an old defence base close to Whenuapai Airbase. Between 3pm Friday 27th January and 2:40 pm Thursday 2nd February, the suburb recorded 348 mm of rain.
There were only four callouts in this area, which has more than 6,250 residents and over 2333 homes, according to Fire and Emergency NZ (FENZ) data. While residents in neighbouring West Auckland suburbs, such as Henderson, made 120 calls to FENZ because of flooding.
Across the Waitemata Harbour in similarly sized Pt Chevalier, residents made 20 calls. So why was Hobsonville Point disproportionately affected by what NIWA has called a 1-in-200-year event? The answer lies in stormwater attenuation.
As permeable grass is turned into concrete and steel, rain has to go somewhere. If it's not soaking into the grass, it needs to be accounted for. Rain that used to fall on green areas now falls on paved surfaces and roofs.
Grass is permeable, but concrete and steel aren't. Consequently, water that was once absorbed into land is now pumped into stormwater pipes at a much faster rate and with more flow than ever before. Our streams and rivers are under pressure from additional run-off, as is our city's infrastructure. Stormwater attenuation looks at returning the situation to a neutral state, as if the rain was still falling on green areas, even after we've built homes, patios and driveways.
A Civil Engineer works out the flow of water that will come off these surfaces and how much storage is required to account for the difference. Stormwater detention is the process of detaining water and slowly releasing it back into the city's stormwater infrastructure.
Water is captured and held (detained) long enough to control the flow of stormwater into rivers and streams, helping to protect vulnerable waterways.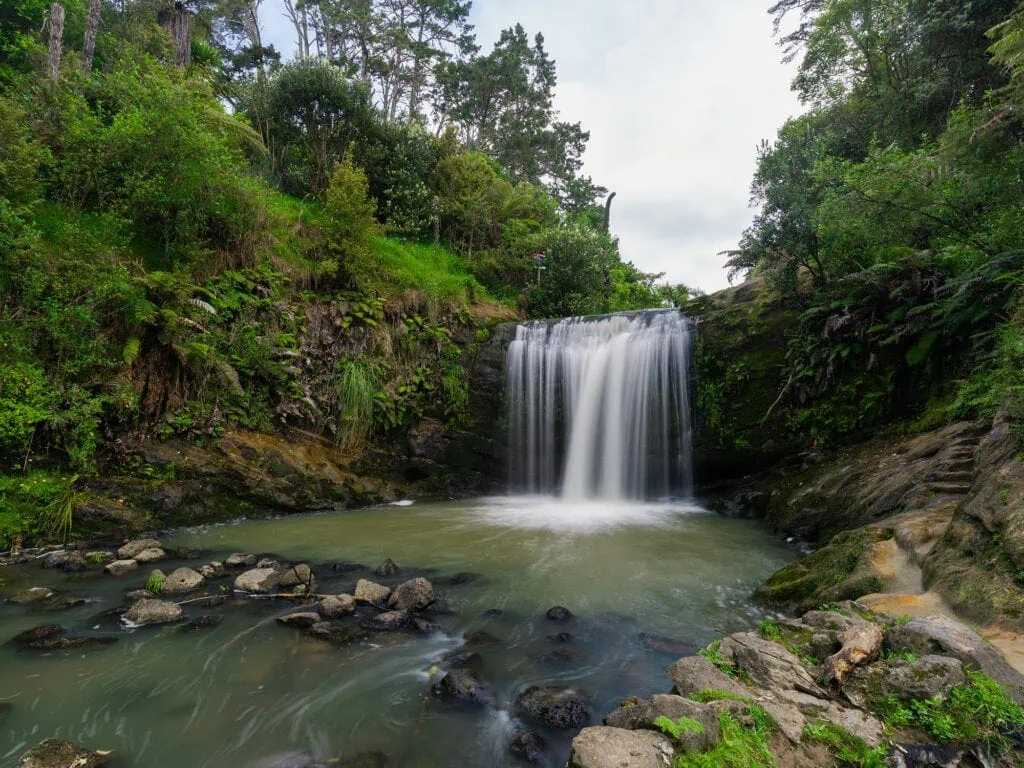 Hobsonville Point is a SMAF 1 area (Stormwater Management Area Control – Flow 1) under the Auckland Unitary Plan. As part of urban planning requirements, the council required every house in this development to have a detention tank. In addition there are stormwater ponds to support the overflow of flood waters. In areas around Hobsonville Point, flooding was severe, but not here, so urban planning clearly worked.
One of the products used was Aquacomb®, a completely hidden on site detention tank that can even be used under steps and stored on sloping sites. Onsite attenuation and rainwater harvesting company Stormwater Systems is the team behind this innovative product. The added bonus is that it doesn't require any extra space, making it ideal for high-density housing. The simplicity of Aquacomb® is its greatest strength. These tanks can be stacked under soffits, behind retaining walls, or even under stairs.
But Aquacomb® isn't just an underground water tank. It is a clever way to capture, reuse and detain water while preventing the loss of valuable space. Being modular, the overall capacity of an average system can vary anywhere from 300 to 30,000 + litres. Depending on if you have a larger detention requirement or reuse need, you can customise how many Aquacomb® pods you allocate for each purpose.
CEO of Watersmart Andrew Olsen is optimistic about the potential for these tanks to help Auckland deal with future storms. "We are excited to be able to offer this easy, practical solution," he said. "It's important that we do everything we can to protect infrastructure, homes, lives and to keep our city running smoothly."
As urban development intensifies, more grass is being converted to concrete and steel. Not only does detaining water protect our streams and environment, but it also helps to protect stormwater infrastructure by reducing the load on it.