Reduce your capital expenditure and improve infrastructure
In an age of ever-increasing floods, protecting people, property, and livelihoods is more important than ever.
Achieving success in flood barrier demands a meticulous evaluation of various critical factors, ranging from the type of flood to the site conditions, designs, applications, installation, operation, and maintenance.
At Watersmart, we understand that there's no one-size-fits-all approach when it comes to flood barriers. That's why we consult with civil and hydraulic engineers to develop the best solution for current and future flooding issues.
Using FloodFree Flood Barrier products, we develop solutions to meet your exact requirements, ensuring that you get ultimate protection.
Tilting Flood Barriers isolate access areas from rising floor water.
Our tilting flood barriers are engineered to ensure automatic deployment by rising with the water level. Once flood water recedes the barrier lowers and excess water is drained into a stormwater system.
Passive or actuated options available
Materials fabricated according to site requirements
Designed for low maintenance
Fully trafficable
Excellent sealing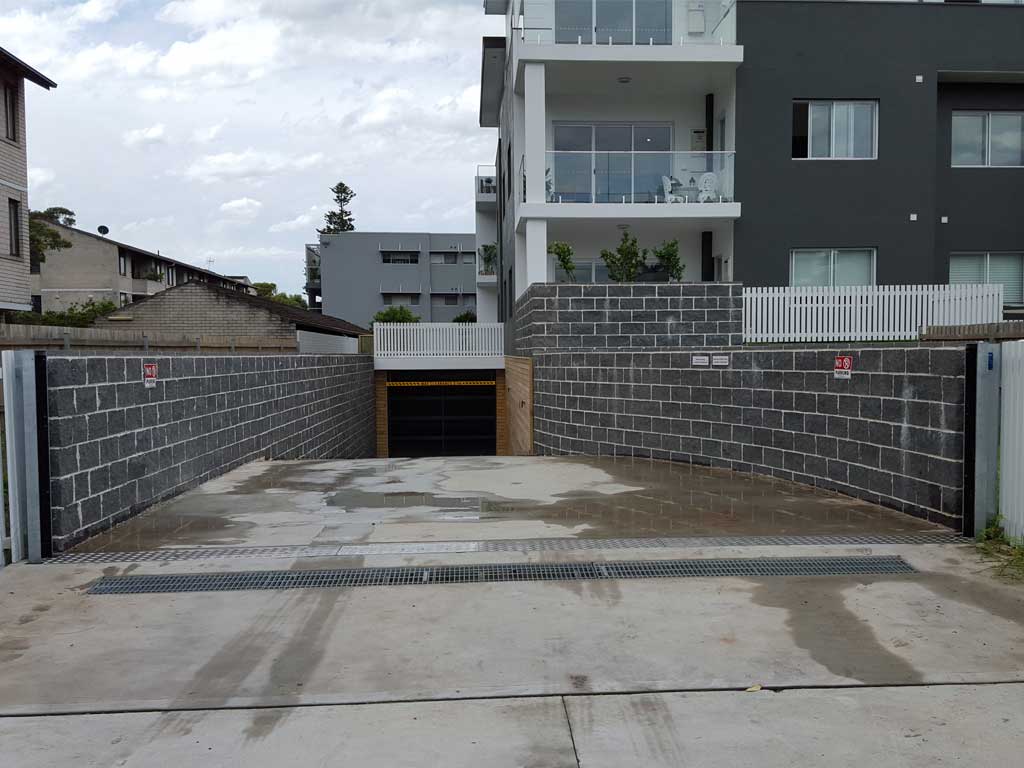 Concealed Flood Barriers are a self-actuating flood defence system.
By utilising approaching floodwaters, the Concealed Flood Barrier raises itself automatically without human intervention, electricity, or mechanical assistance. Barriers are permanently installed below ground level at isolation points, ready to be deployed when needed.
Suitable for 1m-20m wide openings
Designed to be low maintenance
Options available to meet your aesthetic and traffic load requirements
Minimal footprint
Demountable Flood Barriers
Designed to be manually deployed by one or two operators.
Our Demountable Flood Barriers allow owners of property or assets to erect their own protection barriers in and around existing infrastructure to isolate floodwaters during storms.
Constructible to an infinite length
Transport trolleys and storage solutions available
Affordably priced
Segments consist of extruded sections with embedded seals
Segments can be fabricated in increments of 100mm, 200mm, or 300mm high.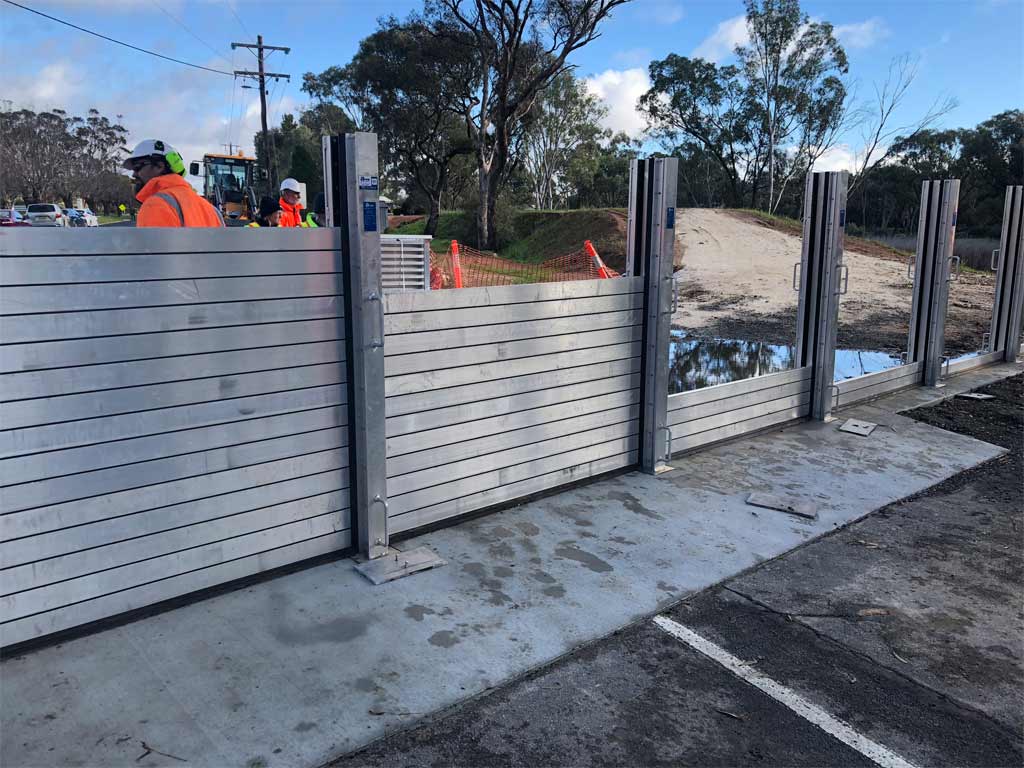 Retractable Flood Barriers
Retractable Flood Barriers are design specifically to isolate large openings.
In order to protect assets from rising flood waters, the Retractable Flood Barrier manually travels sideways to close gaps in existing walls.
Suitable for openings of 1m-30 m wide and 3m high
Easily deployable by a single operator
Heal safe track system
Designed specifically for your site
Low maintenance
Can be designed to complement building exteriors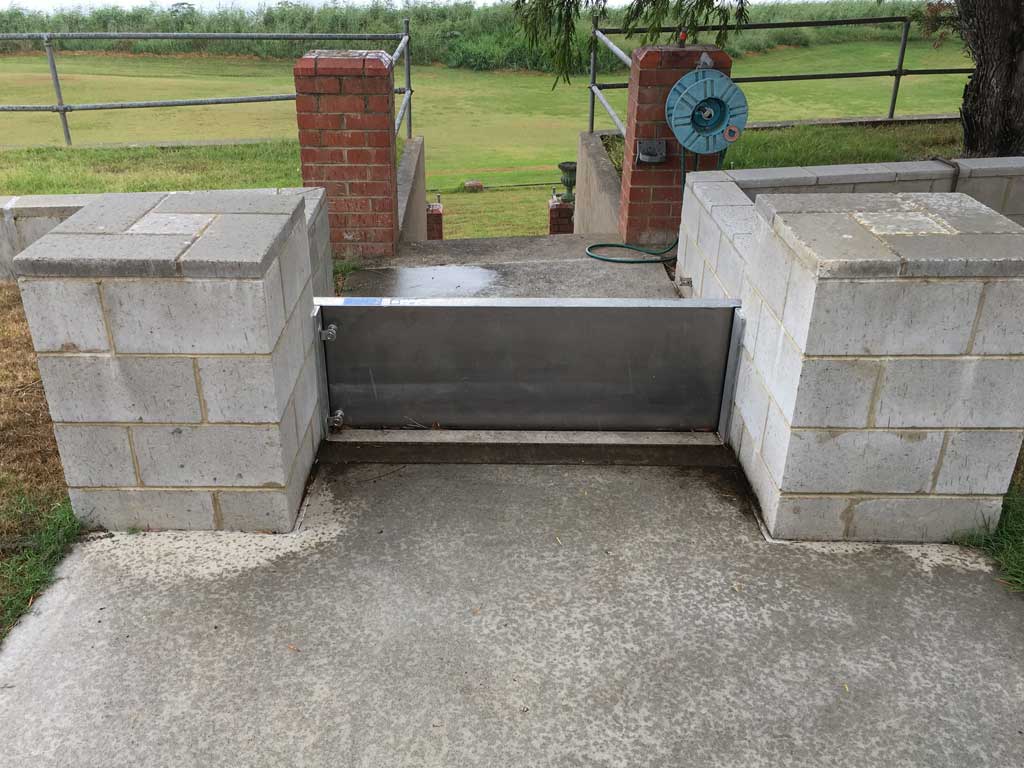 Suitable for direct installation on the wall of a building, levee or other structure.
The swing barrier is an outward-opening hinged flood gate designed to isolate floodwaters up to the gate's height. As soon as the gate is closed, a manual locking mechanism ensures that it remains watertight.
Manufactured from marine grade aluminium.
Seals are manufactured from UV stabilised PVC
Right or left hand hinged options available
Available in a range of colours
Why Choose Our Flood Prevention Solutions
Our flood barrier range has a minimum 25 year design life.
All flood barriers are made in our partners manufacturing facility in Northern Victoria.
Flood prevention procedures are designed in accordance with AWMA's accredited ISO 9001 Quality Management System. 
Designed, manufactured and installed to meet your sites flood protection needs.