Slimline Water Tank & Rainwater Reuse System
Your Complete Rainwater Collection Solution
In a modern minimalist building project, form and function are essential.
A large, unsightly water tank is one of the most obvious ways to ruin that ambience and is simply not an option where space is limited.
With FenceTank™, you can create an almost invisible, slimline water resue system that seamlessly blends into the perimeter of your development. It's perfect for sites that have limited space.
FenceTank™ is a popular solution for developments of all scales, from single sites to high-density housing.
Your Complete Rainwater Collection Solution
Slimline Water Tanks Perfect For Small Sites
Fencetank® is an innovative detention and re-use system designed to manage rainwater and stormwater for New Zealand buildings.
FenceTank™, our newest slimline water reuse innovation, naturally blends with a property's perimeter; allowing for a smart and almost invisible solution.
With FenceTank™ you have a discrete and attractive rainwater collection system.
Each slimline tank is only 410mm deep and holds 1,000 litres of water, equivalent to 4-days water supply for the average household.
Other colours are available on request.
FenceTank™ The Water Reuse System Of Choice For
High-Density Developments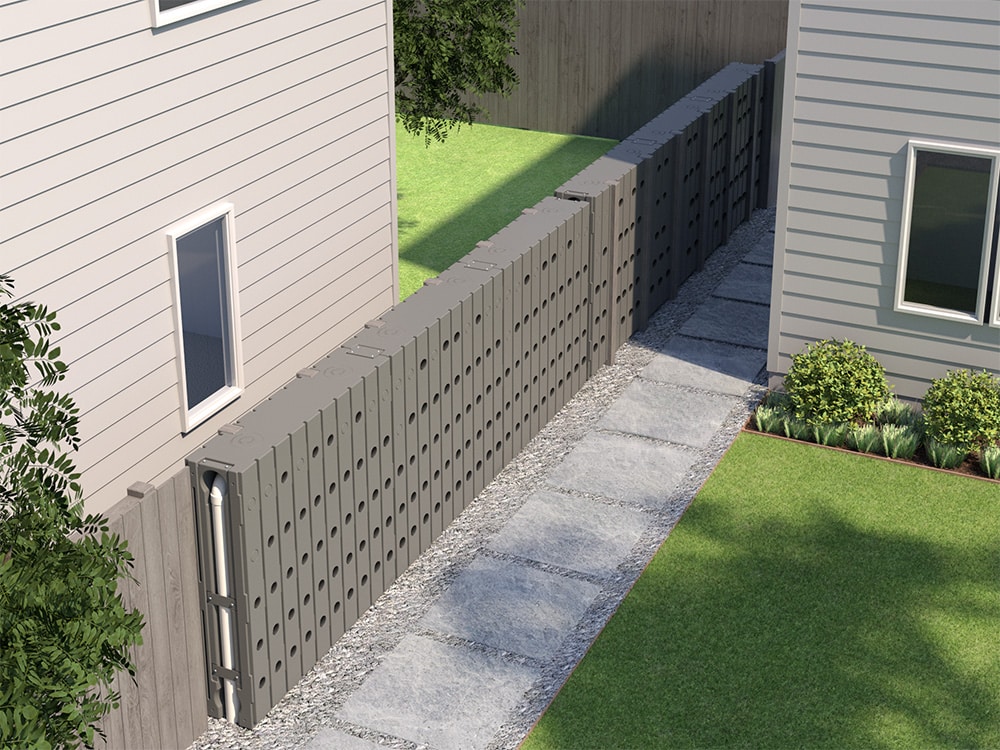 Residents of a Hobsonville Point subdivision that use the FenceTank system to collect rainwater have saved an average of 56% on their water bills. This represents the same amount of water that can use for potable purposes, such as washing the car, watering the garden, and flushing toilets.
Quick and easy to install. They do not require a concrete base. Just four coach screws attached to a fence post.
A thin water tank that is only 408mm deep – one of the narrowest above-ground tanks on the market! Dimensions: 1800mm high x 1800mm long x 410mm deep.
The 1,000L model has been designed to connect together to increase volume.
A single FenceTank™ holds 1,000L of water! Equivalent to four-days water supply for the average household. You can have as many tanks as your property can accommodate, and your roof can fill.
Blends in naturally with your property's periphery allowing for a smart and almost invisible solution. Your tank is your fence. No ugly pipework or appearance above the fence line as all pipework is hidden within the tank itself. Comes in a range of attractive colours.
Proudly NZ Made, 10 Year Warranty
FenceTank™ is made by Kiwi's for Kiwi's. It is designed and manufactured in Penrose, with manufacturing facilities in the Lower North and South Islands.
Your One-Stop Water-Saving Solution
Each property is unique, and so our team will design a rainwater collection plan based on your needs.
The size of your roof
Location on-site: the position of existing fences, new fences or wall fixings
How much rainwater you want to collect
Your budget
What you want to use the water for: e.g. gardening, vehicle washing or in the home
What's the best solution for you? Our team of helpful experts will talk you through your options, so you can make the right choice for you.
FenceTank™ was designed to allow for any qualified tradesperson to install it by utilising the readily available components which come in a pre-made kit. A qualified plumber will be required if you plan on connecting to your home plumbing.
Watersmart's solutions are designed to prevent leaves and debris from entering your tank, so very little maintenance is required. However you can opt for an annual servicing plan that includes one of our technicians:
Checking fixings to ensure FenceTank™ is securely fastened
Checking leaf guards and filtration devices are working correctly
For re-use systems: checking the pump controller and blackflow valve is operating to standard
Checking to see whether the homeowner has any questions!
Made with Rotathene Tank Grade plastic which is globally recognised as the most appropriate grade for New Zealand's harsh conditions and UV light.
This grade carries a series of certifications and complies with many international standards within the tank industry. It is designed for potable water or stormwater and is ideal for re-use systems.
Our tanks can withstand 15,000 hours of harsh UV lights, 8,000 hours above what is legally required. Complies with NZS4766.
Learn more about Matrix Polymers Rotathene tank grade plastic.