Slim Water Tank & Rainwater Harvesting System
Available in 1,000 and 2,000 litres
stormPANEL is a slim water tank and discreet rainwater harvesting system.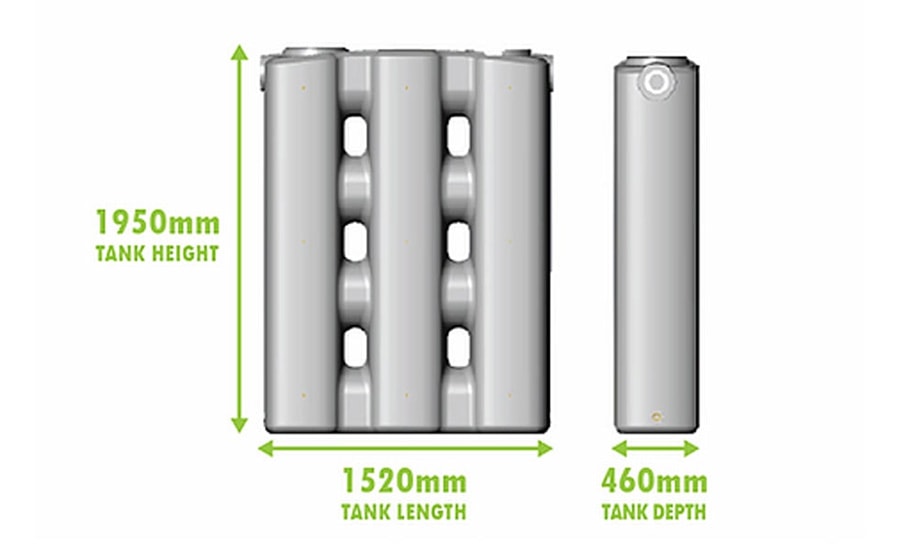 These slim water tanks are designed to be unseen, and the ease of handling was part of the design process from the start. View our brochure to learn more about stormPANEL.
Dimensions: 1,950mm high x 1,520mm long x 460mm deep
2,000L stormPANEL (JUST LAUNCHED)
Dimensions: 1,950mm high x 3,130mm long x 460mm deep
Quick and easy installation – just a simple connection to an existing downpipe
Extra 25mm outlets for orifice overflow points or garden taps are available to add on
2x 50mm brass BSP outlet – one at each end of the tank
Tank-grade plastic enables for potable water or stormwater – ideal for rainwater harvesting systems
A 300mm lid is fitted for ease of inspection and cleaning
Designed with moulded-in lifting lugs for certified shackles
A 10-year warranty applies to all stormPANEL tanks
The 1,000L and 2,000L models have been designed to connect together to increase the volume
Please note colours may not be 100% accurate to the actual tank colour due to digital variations. 
Translucent (non-potable)
Designed To Be Sustainable
stormPANEL tanks are manufactured from the highest quality polyethylene available which is ideally suited to our moulding technique giving long life and trouble-free service.
The material is certified to AS/NZ4766:2006, AS/NZS4020:205, and AS/NZS 2070 so are suitable for potable water.​ Polyethylene cannot rot or corrode and is UV stabilised for New Zealand's harsh environmental conditions.
The manufacturing process produces zero waste of polyethylene and the product is 100% recyclable. At the end of its useful life, it can be returned to us to be recycled into other long-lasting products.
The stormPANEL is designed to AS/NZS4766 by independent engineers with generic seismic and wind restraint systems for New Zealand's most trying areas – PS1 documents for restraints are available with all stormPANEL tanks.
stormPANEL tanks have been designed with threaded M5 pointing points on one side to allow the fitting of custom artwork, wooden trellis, or other screening (not supplied with the tank). Please note that the attachments must be supported at ground level.

stormPANEL has been proudly designed and manufactured in New Zealand with the intent to provide a rainwater harvesting solution for Kiwis right from Cape Reinga to Bluff.
One of the easiest water tanks to install – simple connection to an existing downpipe.
The 1,000L and 2,000L models have been designed to connect together to increase volume.
These slim water tanks are designed to take up as little space as possible, stormPANEL is only 460mm deep.
A single stormPANEL holds 1,000L or 2,000L of water! Equivalent up to eight-days of water supply for the average household. You can have as many tanks as your property can accommodate, and your roof can fill.
A quality product internationally recognised as the most appropriate grade for New Zealand's harsh conditions.
Proudly NZ Made, 10 Year Warranty
stormPANEL is made by Kiwi's for Kiwi's. It is designed and manufactured in Penrose, with manufacturing facilities in the Lower North and South Islands.